Dear Mr. Lee Hah Ing, Sir.

You were a teacher par excellence.

You were everything that a certain teacher, famous for his slapping, was not.

I was deeply privileged to have come under your wings in school. You guided us with a kind hand, and whenever we became rowdy, you calmed us with gentle words.

We all miss you, sir.

My condolences to Ping Wen and his siblings.

Albert Chan

**************

FAREWELL, MR. LEE!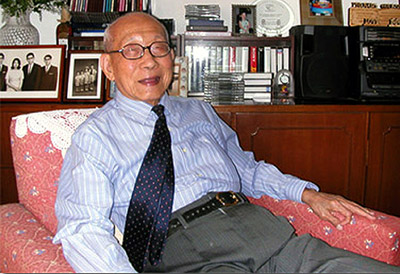 Former ACS Principal Mr. Lee Hah Ing passed away on 04 September 2009 at the ripe age of 95. He left behind a family that stretched three generations to mourn his passing.

Mr. Lee was born on 3 August 1914 in Ping Hai, Fujian Province in China. When he was five years old, he accompanied his parents to settle in Kampong Koh, Sitiawan, a small town near Ipoh, where his father the Rev. Lee Ko Ding was assigned as pastor of the Pioneer Methodist Church.

After completing his primary education in ACS Sitiawan, Mr. Lee went on to ACS Ipoh where he obtained his Cambridge School certificate in 1930. He was admitted to Raffles College, Singapore in 1931 and after graduating with a Diploma in Arts in 1934, embarked on a teaching career that spanned 34 years with the Methodist schools: ACS Teluk Anson (now renamed Teluk Intan), (1934-1947), MBS Kuala Lumpur (1948-1951) and ACS Singapore (1952-1969) where he served with distinction as Principal from 1961 to 1969.

A keen sportsman, Mr. Lee built up the ACS Singapore Hockey XI into a successful team displaying high morale and sportsmanship and was well-thought of as a teacher. As Principal, he is best remembered for integrating the morning and afternoon sessions into one school, and expanding the Pre-University Classes. He instituted the School Prefects, re-introduced the daily devotions, and provided new teaching and sporting facilities. Of these, the Nagle Library, the Art Room, the Audio-Visual Room, and the Sports Complex which boasted the first school Olympic-sized swimming pool in Singapore. Closely related with his sporting interest, he forged closer ties between ACS Singapore and the Methodist Schools in Malaysia by organising and participating in several Festivals of Sports".

According to Mr. Earnest Lau, former ACS Principal and currently the Archivist of The Methodist Church in Singapore, "To help fund the projects, Mr. Lee instituted a series of fun fairs, aptly named Fun-O-Ramas that were memorable in rallying the students into working together for the School and generating a special School spirit, always reminding us that "The Best is Yet to Be". In these and other activities, he quietly set an example by giving of his best to the School. For his services to education, he was awarded the Public Service Star (BBM) in 1969".

Delivering the eulogy at Mr. Lee's funeral, former ACS Board of Governors Chairman Mr. Tan Wah Thong described Mr. Lee, who was his Senior Cambridge (now 'O' level) class master in 1956, as a model teacher who possessed the exemplary art of treating and counselling his wayward students. "I was one of them and lesser mortals would have given up on me", Mr. Tan confessed. "However, the patient Mr. Lee took upon himself the onerous task to discipline and counsel me. He persevered and kept his faith in me and I must admit he had succeeded in touching and changing my life".

After he retired in 1969, Mr. Lee joined OCBC from 1970 to 1986 and was the Advisor to The Tan Chin Tuan Foundation until 2006. Dr Tan Sri Tan Chin Tuan's generosity to the ACS family of schools is legendary, and we can thank Mr. Lee for playing an unsung role. Even in retirement, he took great interest in the affairs of the ACS family of schools. He was indeed a pillar of strength and a great supporter of the ACS Board of Governors, and also the Methodist Church in Singapore.

Mr Lee will be missed by many ACSians, young and old. He was a great teacher, counsellor, motivator and friend all rolled into one. Perhaps these moving words expressed by his former students from the Class of 67/69 sums up what most of his former students regarded him: "You were our principal. But you were always more than just the head of the school we attended. To some, you were the father they didn't have. Or the father they would have wished for".

Rest well, Mr. Lee. We shall meet again on that beautiful shore.
I am deeply saddened to learn of the passing of our beloved teacher Lee Hah Ing. It was a great privilege to be taught by him. He was a very kind, inspiring and dedicated teacher!
My deepest condolences to Lee Ping Wen and his family.
Warmest regards
Arthur Yap
Vancouver, Canada
**********
What a privilege it was for us to meet him at our 50th Anniversary! RIP!
Norman Wee
**********
My deepest condolences to Lee Ping Wen and family.
I remember Mr. Lee reading a passage from the Straits Times reporting on the Robinsons' fire, and his highlighting the phrase "pockets of fire" were seen billowing from the building. I still remember that phrase although I have never used it then.
Regards,
Lim Chin Hock
**********
We are all very saddened by his passing away, but at the same time we are fortunate to have crossed his path and we have learnt much from him not only as a teacher but as a good Christian man. Mr Lee Hah Ing was not only a teacher but was also a gentleman teacher. I am sure we ACSians of Year 1957 will always remember him as a conscientious and dedicated teacher. Mr Lee was indeed a great teacher and mentor to many of us. He has inspired me to be a teacher. I shall always remember him.
Please convey my condolence to his family members.
Regards
Hai Chiew
**********
My thoughts and prayers go out to Ping Wen and his family.
Mr Lee Hah Ing was a kind and good teacher. It was a privilege to have him at our 50th Anniversary Dinner of Class57.
"In Thy presence there is fulness of joy.. " Psalm 16:11b
Ho Chee Meng
London, England
**********
Like the true blue ACSians that we are, we all hold our teachers in high esteem and remember them fondly. And our dearly departed Mr. Lee Hah Ing ranks as one of the highest in this exalted circle.
Our deepest sympathy goes to Mr. Lee's family, and to ourselves, in having just lost a beloved member of our ACS family.
In everlasting memory of our dear Mr. Lee, ACS Forever! And may he ever rest in peace in God's heavenly kingdom.
Yen Park
**********
Dear Ping Wen,
Very sorry to hear about your Dad. Many of us in the "57 class will miss him very much. More than half a century has passed, but his friendly, engaging manner and his captivating teaching style have been firmly etched in our minds. Without a doubt, he was a great ACS teacher and principal. While we mourn his passing, we thank God for his rich and blessed life.
Regards,
Tiang Keng
**********
Dear Ping Wen,
I am saddened to learn of the passing of your father. Lee Hah Ing was a great teacher, mentor, counselor, and a parker gentleman. I had the fortune and privilege of having him as my teacher in secondary school as well as in Pre U. He was also the soccer master when I was the school captain.
Lee Hah Ing was for me a great motivator who had the faith in a boy who spent more time out of class than in class. His faith in me and the confidence he showed in my ability to excel was an inspiration to me and helped me work towards achieving my potential. I owe a great deal to this great man. We must thank the Lord for His Blessings in enriching our lives through the life of Lee Hah Ing.
Please accept my sincere condolences for this loss to you and your family.
Blessings,
Winston Choo
**********
Hi Ping Wen,
I am indeed saddened to hear of your dad passing away. He was indeed a great and kind teacher especially remembered for having taught the class of 9C. It was indeed a privilege and an honour to have met him at our 50th reunion and he will be long remembered. My condolences go to you and family
Kind regards & take care -
Albert Lee SG